Jane Elizabeth HUNTRISS (1862-1940)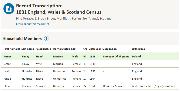 Name:

Sex:

Female

Father:

Mother:
Individual Events and Attributes
Birth:

Sep 1862

Cockermouth

Death:

20 Oct 1940 (age 78)

Southport
Individual Note
1851 census -
1871 - living with grandmother Grace in Belleisle Street, Workington
Assumed to be daughter of Mary & John by association with Leah Huntriss: both are described as being nieces of James and Grace Finlay with whom they were living at the time of the 1881 census.
1911 Census - "Lady help" at nursing home 41 Aughton Road, Formby. Single.
Sources