---
The mystery of Elsie MacGregor's chest
Many years ago, a chest was donated to St Gregory's Church, Goodleigh, North Devon.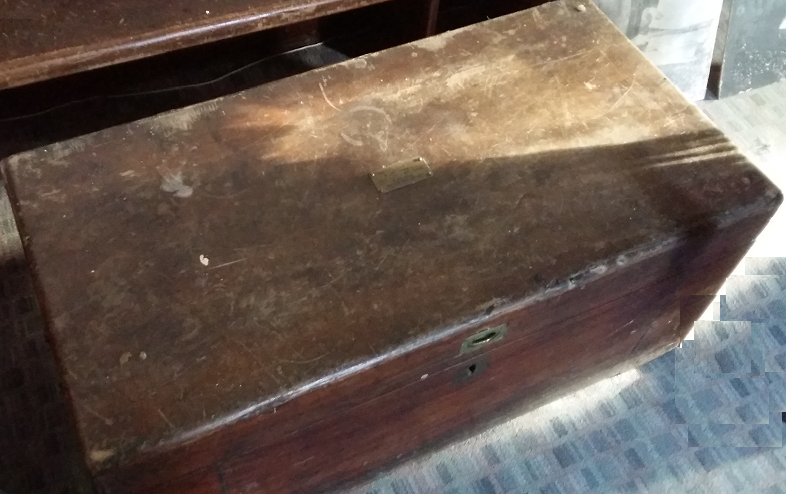 On the top it has a brass plate with an inscription: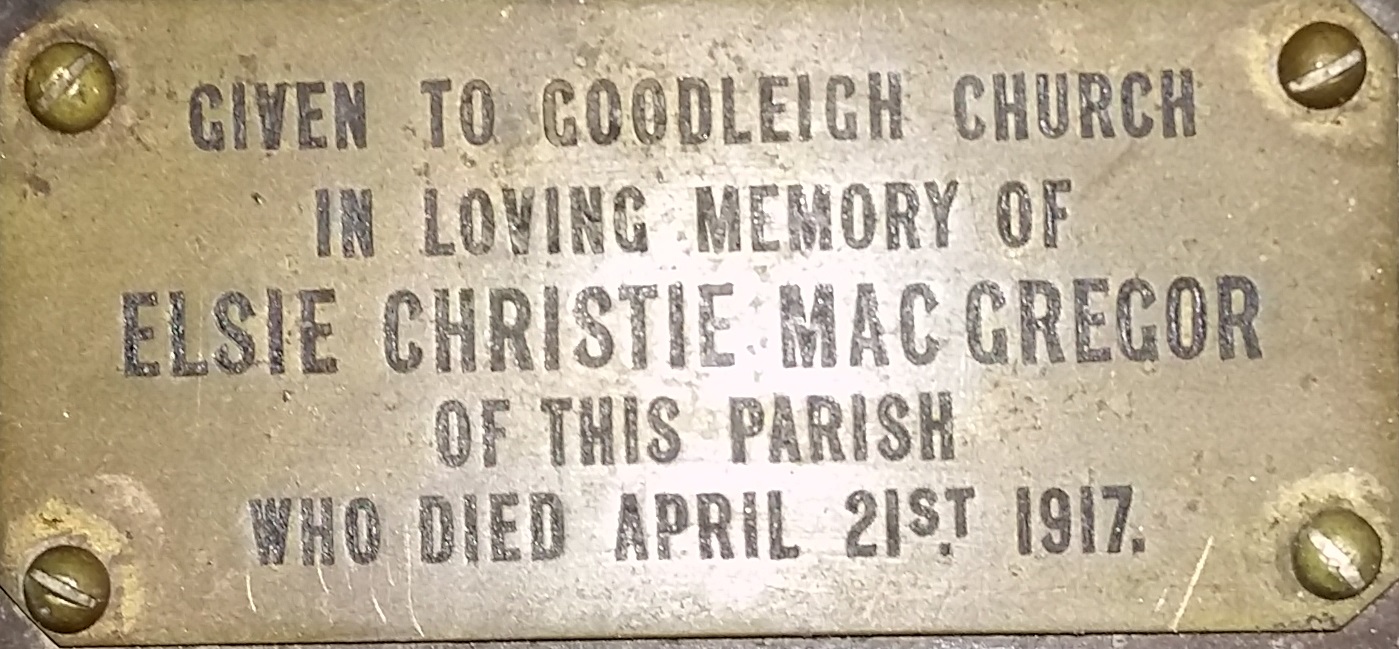 On a wooden tray which fits inside is another plate:





Elsie MacGregor was the eldest sister of Alexander Henry Campbell MacGregor, who was killed in action on 14th March 1915 and is commemorated on the Goodleigh War Memorial.

Why should the plate to Alfred Huntriss Arnold be in this chest? He seems to have received his fatal wounds on or soon after the 12th March, very close to the day on which Elsie's young brother died but not, on the same day nor in the same battle.
The Arnold family
Captain Alfred Huntriss Arnold was born on 14 August 1892 , the only son of Charles Comber Arnold of Holme Leigh, Skircoat, Halifax,Charles Comber Arnold was the son of Sir Alfred Arnold, Member of Parliament for Halifax between 1895 and 1900. Charles qualified as a barrister, but in 1871,took control (together with his father) of James Royston, a wiremaking company on Halifax. Charles married Isabel, daughter of William Huntriss in 1888, and had three children. Ruth was born in 1891 in Halifax, Alfred was born in 1892; Catherine was born in 1896. The family had moved to Grange-over-sands in Cumbria by the time of Isabel's death in 1909.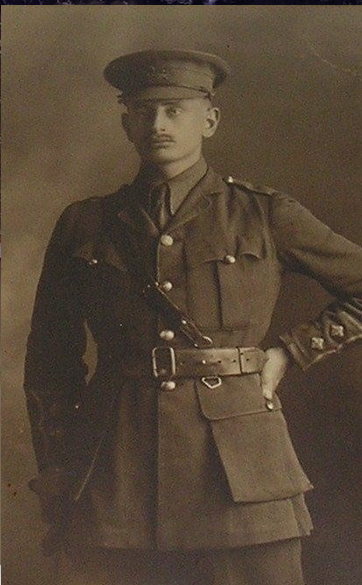 Educated at Uppingham from May 1906, Alfred was a member of the School Fifteen and a Sergeant in the Officer Training Corps. He left in July 1910 entering the Royal Military College at Sandhurst the following year and on completion of his training was gazetted, in February 1912, to the West Yorkshire Regiment.He joined the second battalion in Malta later joining the international force at Skutari in Albania after the evacuation of the town by the Montenegrins serving there for more than twelve months before the outbreak of the Great War. In August 1914 he rejoined his regiment in Malta proceeding with it to England on 14 September disembarking at Southampton eleven days later. They made their home at Hursley Park, Winchester .
Alfred's parents had passed way by the outbreak of the first World War; his military service records list his next of kin as being Ruth, his elder sister; the 1911 census shows his younger sister living with Lucy Huntriss, her aunt, in Halifax.




The call came on 4 November that they were to proceed immediately to France . Lieutenant Arnold, the Machine Gun Officer, was one of the 30 officers and 986 other ranks that sailed from Southampton aboard the S.S. Mount Temple disembarking in France on 5 November. He fought through the rest of 1914 being gazetted as a Temporary Captain before the end of the year and seemed to have a charmed life until… It was March 1915, an attack had been made on Neuve Chappelle, on the 12th the Germans counterattacked but were repulsed with heavy losses, and their artillery raked the West Yorkshire's trenches causing heavy casualties. By the end of the day two officers had been wounded – Captain G.H.G. Perry and Captain A.H. Arnold who had been severely wounded in the shoulder and spine. 14 other ranks had been killed, 31 wounded while a further six were missing.

Evacuated firstly to the Casualty Clearing Station then to Number 7 Stationary Hospital at Boulogne he was evacuated to England on 5 April. He finally found a home at Lady Wimborne's Auxiliary Hospital at Templeton House, Roehampton and although paralysed wrote two letters to the War Office (copies with the documentation), the latter in November 1916. Recovery of any sort was never an option and Captain Arnold succumbed to his horrific wounds after a long fight for life on 30 December 1916 . He lies buried locally in Grave F. 221 in Barnes (East Sheen) Cemetery.
Alfred's death is commemorated in a tablet at Allinthwaite church in Grange-over-Sands.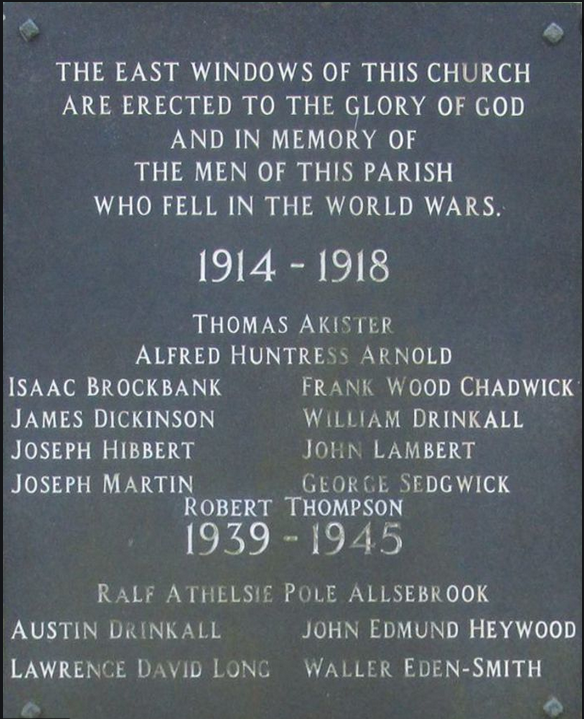 The 1939 register records Alfred's sister Ruth living in Banbury (a spinster), and she died in Paddington in 1966. Catherine was married in London in 1930.
The MacGregor family
The MacGregor family was well-travelled, as shown by the 1871 census. Donald, who was described in the census return as being a landholder and shipowner, had served in India with the Honorable East India Company Service (HEICS), during which time be met and married Mary (aka Maria), daughter of Edward Cullin in 1855.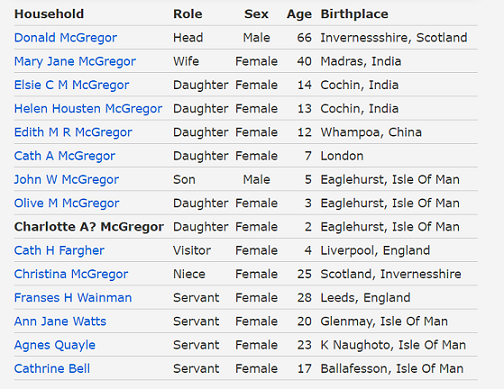 Alexander was born in 1873

Donald passed away in 1879 at the age of 79.

The 1881 census shows Alexander, described as a scholar, living in lodgings in the Isle of Man together with Elsie.



By 1891, Maria and some of her family (including Alexander) had moved to Lambeth.


Maria died in Lambeth in 1900, aged 68.


The 1911 census shows that sisters Elsie and Helen were living in Ealing



Elsie died aged 60 in Barnstaple - presumably in Goodleigh). The 1920 electoral roll shows sisters Helen and Olive living in "Riversmead" in Goodleigh.


Helen died on 1931; the 1939 Register shows that Olive had been joined by sisters Katherine and Edith


Olive died on 1942




Katherine died in 1946, aged 83


The mystery of Elsie MacGregor's chest
Here are stories of two army officers who lost their lives in the First World War. But Alfred was some 20 years younger than Alexander, who was in turn about 15 years younger than his sister Elsie. The two men did not go to the same school; only Alfred went to Sandhurst, and they served in different regiments. Alexander's family had been in India; Alfred's came from Cambridge and Yorkshire; both are a long way from St Gregory's Church, Goodleigh, North Devon.

And so Elsie MacGregor's chest remains a mystery. If anyone does have any information that helps to solve it, do get in touch!