---
LETTERS FROM AMERICA
The letters and photos on this page have been kindly provided to me by Cheryl Williams, who lives in Seattle.

They tell the story of her great-grandfather John Huntriss (1880-1912), and his family.
John Huntriss, eldest son of Charles and Caroline Huntriss, was born in 1880. At the time, the family lived at Redlands Farm in Lighthorne, Warwickshire - in the 1881 census, Charles was described as a farmer of 128 acres, employing 3 men and 2 boys. By the time of the 1891 census, the family lived in the village of Wardington, and Charles was living "on his own means", presumably having benefitted from an inheritance from his father, William Huntriss of Halifax, who died in 1883.


John did not opt for the easy life - in 1900 he volunteered for the Imperial Yeomanry.
The Second Boer War (11 October 1899 – 31 May 1902) was fought between the British Empire and two Boer states, the South African Republic (Republic of Transvaal) and the Orange Free State, over the Empire's influence in South Africa. It is also known variously as the Boer War, Anglo-Boer War, South African War or Anglo-Boer South African War. Initial Boer attacks were successful, and though British reinforcements later reversed these, the war continued for years with Boer guerrilla warfare, until harsh British counter-measures brought them to terms.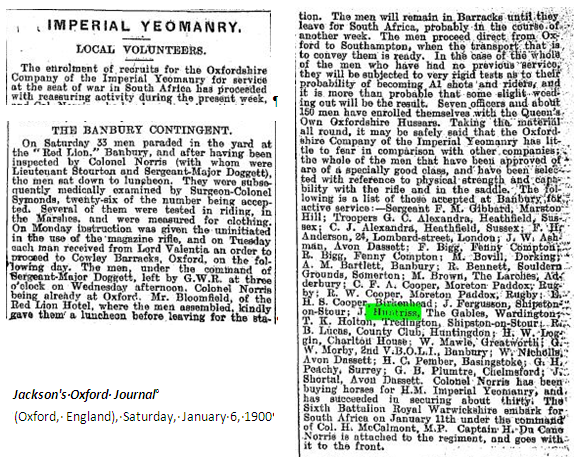 After the war, John made a number of voyages to and from Newfoundland. At some point he had met Kitty Pooke when she was staying at the shooting and fishing lodge owned by her father. My understanding is that the match did not meet with the approval of John's father, who felt that John was marrying beneath himself. Charles, his father, died in April 1907; later that year John sailed back to England with his brother Richard.

John and Kitty were married in Newfoundland in 1908

In 1912, John and Kitty were expecting their first child. However tragedy struck - John died from appendicitis in June; his son John was born in August.

Whilst the first known surgical removal of the appendix occurred in 1735, the final acceptance of the concept of appendicitis and the development and wide application of surgical treatment did not happen until the very end of the 19th century.
The inheritance received by his father was passed down to John junior,
and meant that for many years he could enjoy a life of shooting and fishing - although he did eventually have to take a job when the money ran out.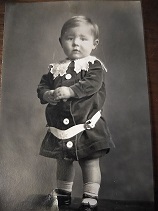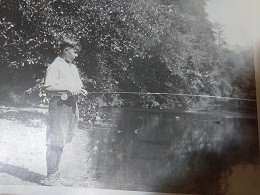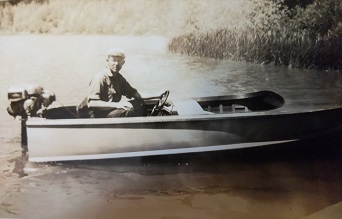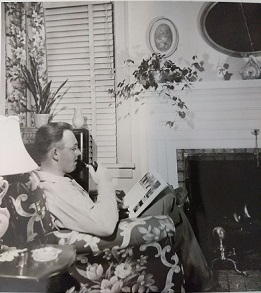 John did from time to time keep in touch with the family back in England.
This letter is from his
Aunt Charlotte
in 1934, and follows his visit to her.
Charlotte, together with her husband William, lived for a time at Mattersey Hall. William died in 1912; their three sons were all killed during the first World War. Click here for the story of this family.

Aunt Rose could be the wife of Edward Huntriss, his father's uncle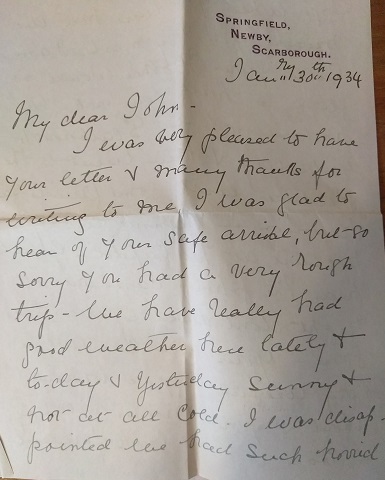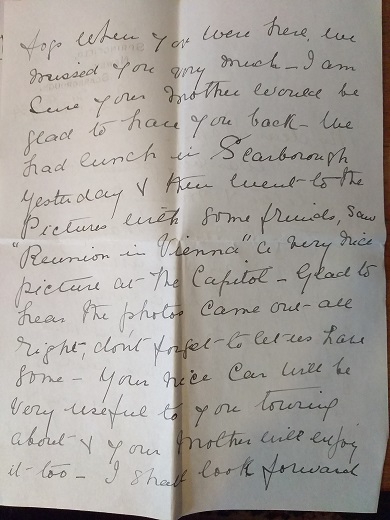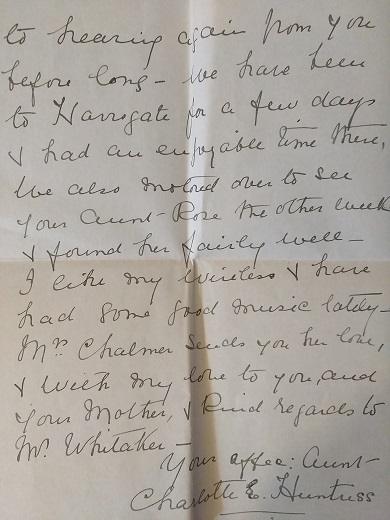 John taught both of his daughters (Gail and Joan) to hunt and fish.
Gail (pictured below) could hit anything - indeed she may have been a better shot than her husband, who was raised in Montana, cowboy country!

Gail Bolton - with gun!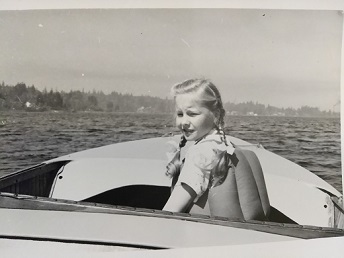 Gail Bolton in John's racing boat
Judging by this letter written in 1947 from his uncle
Dick
, John also had an interest in family history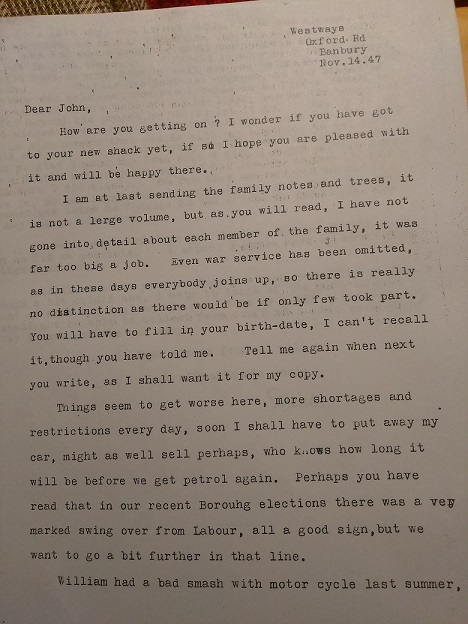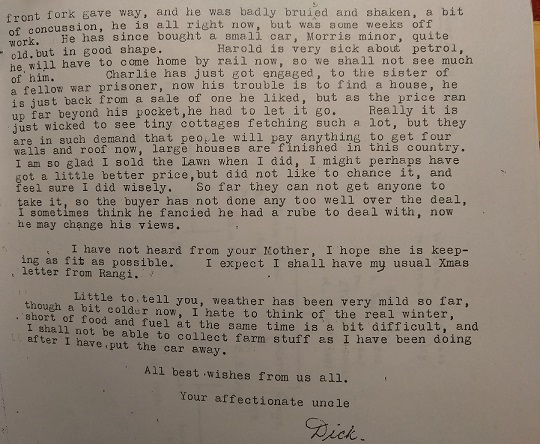 William
eventually emigrated to Australia; he served in the navy, and was awarded an MBE in 1943.
John maintained contact with the family in the UK. In this air mail letter, written in 1956, Charles described the work that was being done on the house that he had recently purchased.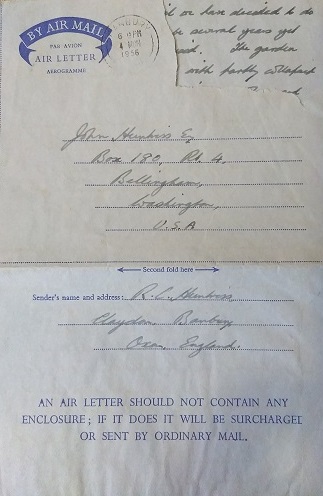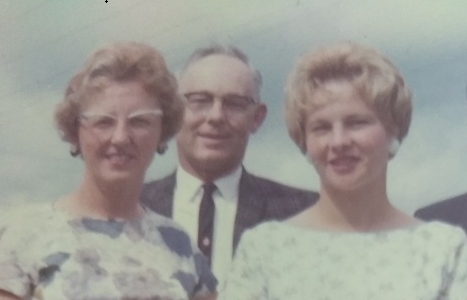 John Huntriss with Winnie, his wife, and elder daughter Gail
John passed away in 1989. However his daughter Gail continued to keep the link with England when she and her husband visited Charles and Yvonne in 1993. They seemed to have discussed family history - after their visit, Charles wrote to Gail and her husband regarding a Huntriss family coat of arms.

Gail, who passed away in 2007, was obviously very proud of her Huntriss heritage, and took care to preserve the photographs and documents that appear on this page. Her daughter Cheryl also has that interest, and I am so grateful that she has shared these with me.